Canada's Agriculture Day - February 22, 2022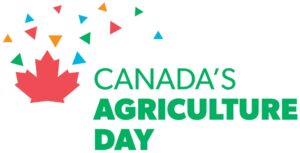 Canada's Agriculture Day – February 22, 2022
In recognition of Canada's Agriculture Day, a day to celebrate the business of farming in Canada, the Kent Federation of Agriculture coordinated local food donations and monetary contributions to the Salvation Army and Outreach for Hunger Food Banks in Chatham-Kent.
Chatham-Kent producers offer fresh, high-quality food to the world with an abundancy available at local markets, stores, and farms. We are thankful for our good fortune and the ability to share with those experiencing food insecurities.  
Locally grown food, and other food/sundry products plus funds totalled approximately $14,000, all going directly to our local food banks.
The KFA, and the KFA Canada's Agriculture Day Committee would like to convey a heartfelt thank you to all donors and supporters. The KFA, the CK food banks, and local families struggling with food challenges amid the rising costs of groceries, truly appreciate each donation!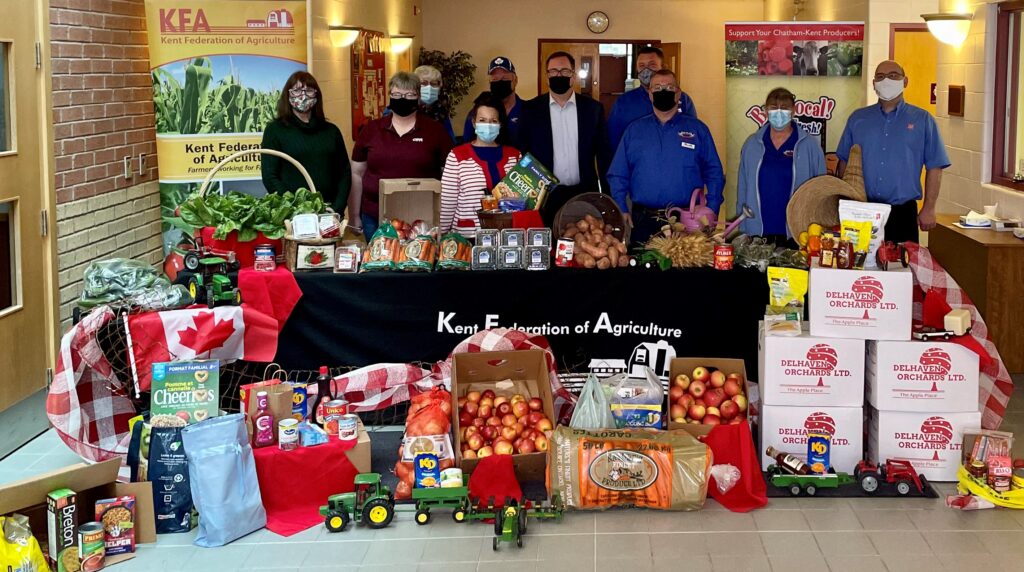 Pictured from left behind a sampling of the many product donations: 
Brenda Leclair, Outreach for Hunger; Carol Verstraete, OFA;  Mary Claire Latimer, CK Councillor;  Mary Anne Udvari,  KFA;  Mike Vannieuwenhuyze, KFA;  Mayor Darrin Canniff;  Brad Snobelen, KFA;  Jay Cunningham, KFA President;  Gale Steadman, KFA;  Paul Stratton, Salvation Army.  
The KFA thanks these generous businesses and individuals for their 2022 donations and support:
ADAMS INDUSTRIAL FORKLIFTS              
The ANDERSONS – Blenheim
BLENHEIM CHEVROLET
BLENHEIM CHRYSLER
BLONDE SEEDS – Greg Blonde
BYRNE BOYS EXCAVATING
CAPITALS AGRI DELIVERIES LTD
C.L. BELLENGER AND SOUTHPOINTE EQUIPMENT
CONAGRA – Dresden
CUNNINGHAM FARMS – Jay Cunningham
DELHAVEN ORCHARDS
D'HONDT CUSTOM APPLICATON SERVICES INC.
DOWLER-KARN CHATHAM LTD
ESSEX-KENT JR FARMERS
FAB MASTER – Ridgetown
FARM CREDIT CANADA (FCC)
FAUBERT, RON & MOLLY
GRAIN FARMERS OF CHATHAM-KENT
HANDSOR, HARVEY & SUSAN
HANDSOR, PAIGE
HARRYS HAULAGE        
HIGHGATE TENDER MEATS
HURON TRACTOR
J & E MEATS
JOHN WRIGHT, C-K COUNCILLOR
JOHN WRIGHT GENERAL REPAIRS
KEARNEY PLANTERS
KENT COUNTY PORK PRODUCERS         
MAIN & MARKET SERVICE CENTRE
MARY CLAIRE LATIMER – CK COUNCILLOR
MAYOR DARRIN CANNIFF
MCBRIEN LIVESTOCK
MIKE'S CARWASH VARIETY–UPI–TILBURY
NATURE'S FINEST PRODUCE LTD
PEETERS MUSHROOM FARMS
PICHE, STEVE & JACKIE
PRIDE SEEDS
R & K FARMS – Leclair
RBC AGRI BUSINESS
RIDGETOWN FARM EQUIPMENT           
ROESCH MEATS AND MORE
SNOBELEN, BRAD & JESS
STEVE & ALICE UHER – FARM
STEVE'S SHOP /STEVE PINNSONEAULT
SYLVITE AGRI SERVICES – KENT BRIDGE
TOTAL COMFORT HEATING & COOLING
UDVARI, MARY ANNE
WADDICK FUELS – BOTHWELL
COMMUNITY FOOD DROP-OFFS
And most importantly our Farmers!